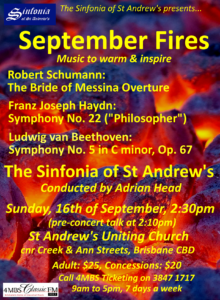 I'll be joining the Sinfonia of St Andrew's again in September, for a concert of music filled with fire and warmth.
Robert Schumann's, "Bride of Messina", overture, inspired by Goethe's play, was written in two weeks and in the wake of the completion of his Third ("Rhenish") Symphony. The plot of the play, involving two princely brothers murdering each other over their love of the same woman, who neither knew to be their sister, foretold to be the catalyst of their deaths, Schumann depicts with a brooding, foreboding introduction, followed by some of his fieriest music. This of course makes a good, fiery, companion to Beethoven's Fifth Symphony, which not only is recognised as one of the greatest works of Western Art Music, let alone the admiration that it has held for humanity in general, cast a long shadow over composers within and beyond the Nineteenth Century.
Contrasting these two works- perhaps the eye of the storm- we've included Haydn's Symphony No. 22, a work that written in his thirties, that has the unusual orchestration of two Cor Anglais, along with the standard strings and paired horns. The addition of the Cor Anglais gives the sound of the orchestra a warmer tone, at times adding to the jocular nature of the work. Although this work goes by the subtitle, "The Philosopher", this did not originate from Haydn himself, although it seems to have inherited the subtitle within his lifetime.
So please join us for a concert of warmth and fire on the afternoon of Sunday the 16th of September, at St Andrew's Uniting Church, at 2:30pm. If you're early then you might catch my pre-concert talk at 2:10pm. Tickets available via 4MBS on 3847 1717.
See you there!