Normally I do a six monthly wrap up of things, but this year has been hectic, and the chance to write something mid-year didn't avail itself. So this is a one yearly wrap up, rather than the normal six monthly post.The year started on what on the surface would appear to be a sour note, but has turned out to be one of the best things that we have ever done: Paula declared herself bankrupt in late January.
It has taken me quite a bit to get used to this concept, but one is for certain: bankruptcy is not as uncommon as it would seem. Her credit cards have been an enduring leftover from when she was a student, and they just wouldn't seem to go away. The lack of sensitivity involved with her being fired from her previous job only a few weeks out from Christmas in 2012 (but not before enduring six months prior of personal attacks by her management at every opportunity, resulting in a return to depression in her life), and the difficulty of trying to find a job at that time, made it difficult for her to pay her credit cards. It didn't help that I was helping her to pay these cards, whilst investing my money into renovating the house at the same time.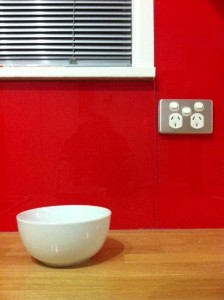 I must confess that it is with no pride that I say that I didn't handle the news of her bankruptcy very well, which she called to tell me during the middle of a school camp in January. After some restless evenings, and being exposed to the details of how to apply for bankruptcy (and that it wouldn't affect my assets also), I can safely say that it was one of the best things for us to happen. The advice that we have seen is that if you are considering filing for bankruptcy, then you should undertake it sooner rather than later. There were those around me who were very concerned for me when all this occurred; you know who you are, and even though you may not have thought that you did very much I'll never forget your help. Thank you.
We also lost one of the good guys in 2013: Scott Griffiths passed away, and we were able to pay tribute to him through getting the Zappa Big Band together for a performance at the Brisbane Jazz Club. My memories of Scott go way back to when we were on the state government run MOST camp, for state school music students. Scott, you are greatly missed and we will always remember you.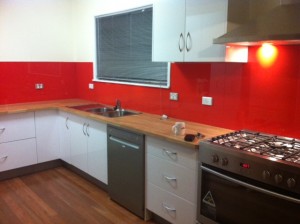 We renovated the house during the first six months of 2013. The renovations took up much of the first six months of the year, which made organising the Ady Ensemble very difficult to do. The organising was replaced by a drum sander, spirit level, and an air gun. Although traditionally allergic to DIY (I've been press-ganged into  digging rubble drains, building pagodas and painting ceilings since I was in grade eight), I must confess that given the current  affairs in my life during the latter part of 2012 this was something very therapeutic to have undertaken, even if that meant putting other responsibilities and projects on hold. I'm still considering writing to my local MP about extending the length of a day to thirty-six hours, which would have allowed me to do the DIY and be able to do everything else. The nice thing is that the renovations to upstairs and the kitchen are done, and the bathroom will be tackled early in 2014.
It's been a tough year for Paula. After the unhappiness of 2012, she has been finding her rhythm in her new position as a PT for the YMCA. It's been a tough road for her, but we're starting to get closer to the right end of the tunnel. The bankruptcy lasts for another two years, which means that she cannot apply for, or have, a credit card. I've never had one, and we shall never have one in the house ever again- ever.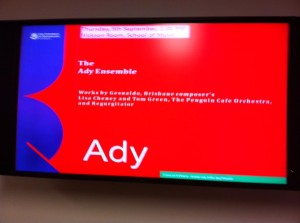 The last six months of 2013 for me were better. The Ady Ensemble had the opportunity to perform at the University of Queensland School of Music as part of their lunchtime concert series, and the ensemble's plans for next year's concerts are well underway. The Nickson Room out at UQ was packed to the rafters for our performance in September, and it was good for our members to have an audience size worthy of their talents. December 2013 marks the twentieth anniversary of my graduation from UQ, so it was nice to come out and perform for the department.
Running and directing the ensemble has helped to resurrect certain artistic pursuits that have suffered a lengthy hiatus in my life. Although I spent the second half of my eight years in the navy (1994-2002) undertaking the responsibilities involved as the band's staff arranger, which included adapting/arranging a large volume of music for the band's performances, as well as working for the 2000 Olympics and Paralympics, the following ten years saw very little work in this area, and it's only over the past three years that I've written considerably more since developing the Ady Ensemble. Some of the pieces have bordered on becoming original works- not arrangements or transcriptions- which has been a surprising turn of events for me, as I seem to be slowly returning to an earlier time- some twenty years ago- when I was writing a lot of original compositions. I'm not holding my breath, but if I find myself meandering down that old composition path then that wouldn't such a bad thing to experience. As the painter Charles Blackman once said, "if you have a talent then you should use it; if you don't then you don't deserve it."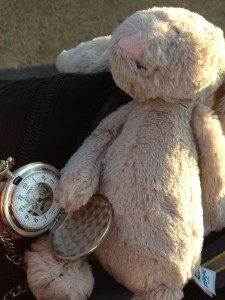 So I think that the worst is behind us now, and having a wonderful home to return to every evening has been a small mercy to be thankful for. I feel that for the last eighteen months we've both been in damage control, but that both of us are slowly rebuilding our confidence.
I thank you, our friends, who have been there to help us through these challenging moments. Some have been less than sympathetic to our disposition, and sadly that is when you discover who your real friends are. But here now, on this New Year's Eve, I'd like to wish to all of you a bright and prosperous future, and I wish that all of you always have good people to share your successes with, and yours and their times of need with.
Love from Paula and Ady